Our Firm
As Method Studio recently celebrated our fifteen-year anniversary, we look back with great appreciation and humility. Our three founding partners; Becky Hawkins, Joe Smith, and Kelly Morgan, struck out on their own in 2007 with a goal to create a firm that was balanced, diverse, and off-the-charts creative with a new set of rules: collaborate/imagine/ listen with all of your senses while keeping things balanced and pragmatic. From that, we grew, welcomed more design innovators, and built genuine, valued relationships internally and with our clients. "Our goal has always been to build a practice centered on design to inspire and enhance our community while creating a work/life balance in our firm culture. That focus has resulted in humbling and rapid growth" said Becky Hawkins. Joe Smith adds, "We wanted to do things differently, with authentic design and honest dialogue with our clients. Our staff is integral to our success and their voice makes a difference."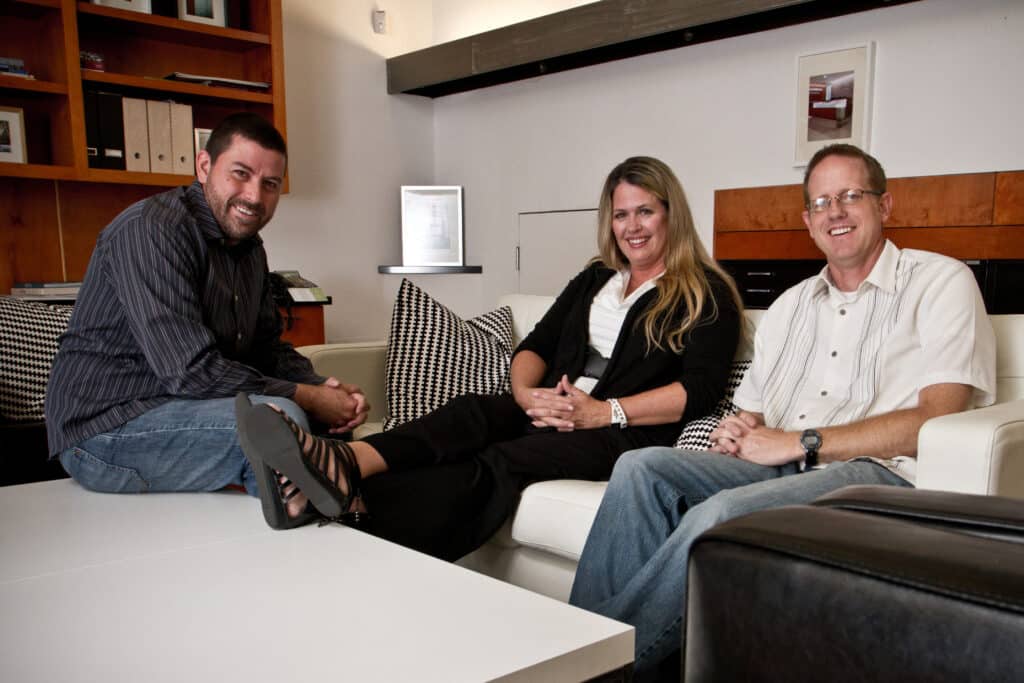 We have grown our firm with a 98% repeat client base, awarded "Best of State" in commercial architecture in 2018, 2019, 2021, and 2021; been awarded firm of the year 2021 by American General Contractor's, by IIDA and WIA (Women In Architecture) in 2017, and now employ over 96 professionals with offices in Salt Lake City, St. George and Rexburg, Idaho. Method Studio has become one of the largest firms in Utah while maintaining a small-firm culture. Breaking through the traditional architecture firms dominating the Utah market was no small matter. In a field where the firm portfolio is often the basis of winning new commissions, carving out the toeholds that enable a practice to grow is challenging. Particularly, with the economic downturn that occurred only a few short years after the firm began. Gradually, job by job, Method began to establish a reputation for excellence. When we obtained new clients we worked hard to exceed their expectations and build strong working relationships. We extended the same respect and courtesy to our collaborative consulting partners, which has enhanced our reputation and increased our ability to compete. Method Studio is widely considered a trustworthy organization that listens carefully and cares deeply about our clients with a sincere belief that good design matters.
Cultivating creativity has led to diversity and opportunity within a framework of work-life balance, where all staff voices matter.
The result is reciprocal; staff is engaged and they deliver because they are valued. At Method, we are architects, designers, accountants, principals, interior designers, marketers, project leaders, administrative support, and drafters. We are a family. It takes all of us to make great designs and our patchwork quilt of "creators" is stitched together into a strong fabric in a variety of colors, textures, sizes, and shapes.
Our project teams comprise senior-level designers working hand in hand with young designers, openly sharing best practices, seizing teaching and learning opportunities, and cultivating an organic, collaborative environment that provides wonderful opportunities for staff to bloom and test their ideas. Our senior partners are accessible and approachable—with workstations just like everyone else's in our open office layout. The office is organized around project teams, allowing seasoned staff to oversee and collaborate with junior-level employees, supporting dialogue that grows skills across the organization and fosters teamwork and camaraderie.
We've positioned ourselves as a DESIGN firm and are at home in this niche. To accomplish this, we've worked to develop processes and techniques in how we deliver our services to achieve the highest level of architectural design in an effort to best serve our clients and our communities. As part of our process, we are known for conducting in-depth research for each and every project we are commissioned to design.
subscribe to our newsletter