Reinventing the 'Wet Core' for Student Housing
Reinventing the 'Wet Core' for Student Housing

Jacob GineS
Joe Smith
Becky Hawkins
Shawn Benjamin
Nathan Blair

VP, Research + Design, Method Studio
Partner, Method Studio
Partner, Method Studio
Associate Principal, Method Studio
Senior Associate, Method Studio
Laramie County Community College, Cheyenne, WY
For many of us, living in the 'dorms' during our college days was considered a right of passage and formative in establishing independence and relationships. Several years ago, as universities desired to be competitive with private sector housing, there was a lot of movement/pressure in providing apartment or suite-style housing on university campuses. But guess what? Dorms are back! But they are not without consequence.
This research study specifically looked at the design of 'Wet Cores' in dorm-style housing. A wet core is essentially the communal bathroom for several students with lavatories, water closets, and shower facilities. We began by identifying the issues and asking a lot of questions.
Are there others using wet cores?
What's their experience?
How many students should a wet core serve?
What's the right ratio of students to toilets provided?
What about privacy and security?
What are the maintenance issues?
Is there a cost-benefit?
What do students think?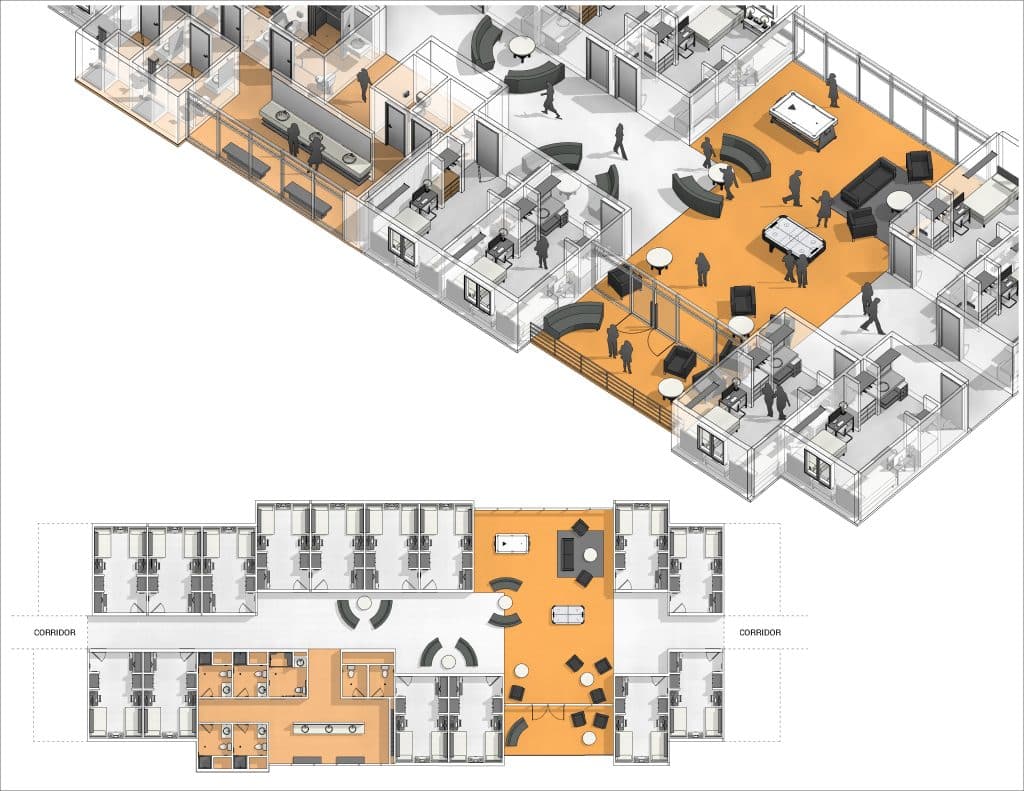 We conducted case studies of seven housing projects (renovations and new construction) at two major university campuses – Penn State University. The feedback we received from housing directors and facilities personnel was insightful. Here is some of what we discovered…
Overwhelmingly appreciated by our students.
Initially nervous about providing a 1:6 ratio (student per toilet), but have been very pleased with the decision. In fact, Penn State has converted 1,200 beds to this ratio and is committed to building or converting 7,000 beds over the next decade.
Lower cost to construct.
Results in closer student community and networks.
Has eliminated a lot of concerns regarding safety, security, and privacy – far fewer issues with people being where they are not supposed to be.
Students typically keep the wet core cleaner than in private bathrooms.
Universities feel like they are ahead of the curve regarding transgender and gender-neutral accommodations.
Additional toilet rooms increase the turnover of the space.
Can be challenging during big events (camps, etc.) and in sorority houses.
Wet cores need increased ventilation.
This research study specifically looked at the design of the 'Wet Core' in dorm-style student housing. Wet Core includes lavatories, showers, and water closets in central locations on each floor.